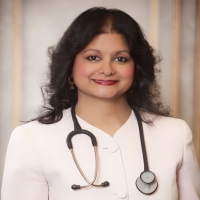 Dr. Roopa Chari
Qualification: M.D.
Specialization: Internal Medicine

Evanston Hospital, Medical College of Ohio

Member ID: CHAC
Location:

0. 4401 Manchester Ave, #201 California, Encinitas, United States, 92024
Dr. Roopa Chari, MD is a medical doctor, in Internal Medicine. She successfully combines her unique training, experience and expertise in integrative holistic medicine along with her traditional medical background to provide the best quality healthcare. Dr. Chari offers both natural, safe remedies to treat medical conditions in additional to medication when it is necessary to her patients.
Dr. Chari received her medical degree from the Medical College of Ohio and completed her internship and residency at NorthShore University HealthSystem affliated with the University of Chicago.
She has a leading-edge, proven approach for treating the underlying causes of both physical and psychological conditions with both natural remedies and medication when necessary to get results for her patients.
Dr. Chari treats general medical conditions such as high blood pressure, high cholesterol, diabetes, digestive issues, fatigue, headaches, anxiety, depression, insomnia, fatigue, hormone imbalances and weight management in addition to cold symptoms, infections, etc.
Dr. Chari has been featured on local and national television shows including the Learning Channel and radio programs around the country, and is the Medical Director of The Chari Center of Health, Inc.
Specialization

Internal Medicine

Languages Spoken

English.

Experience