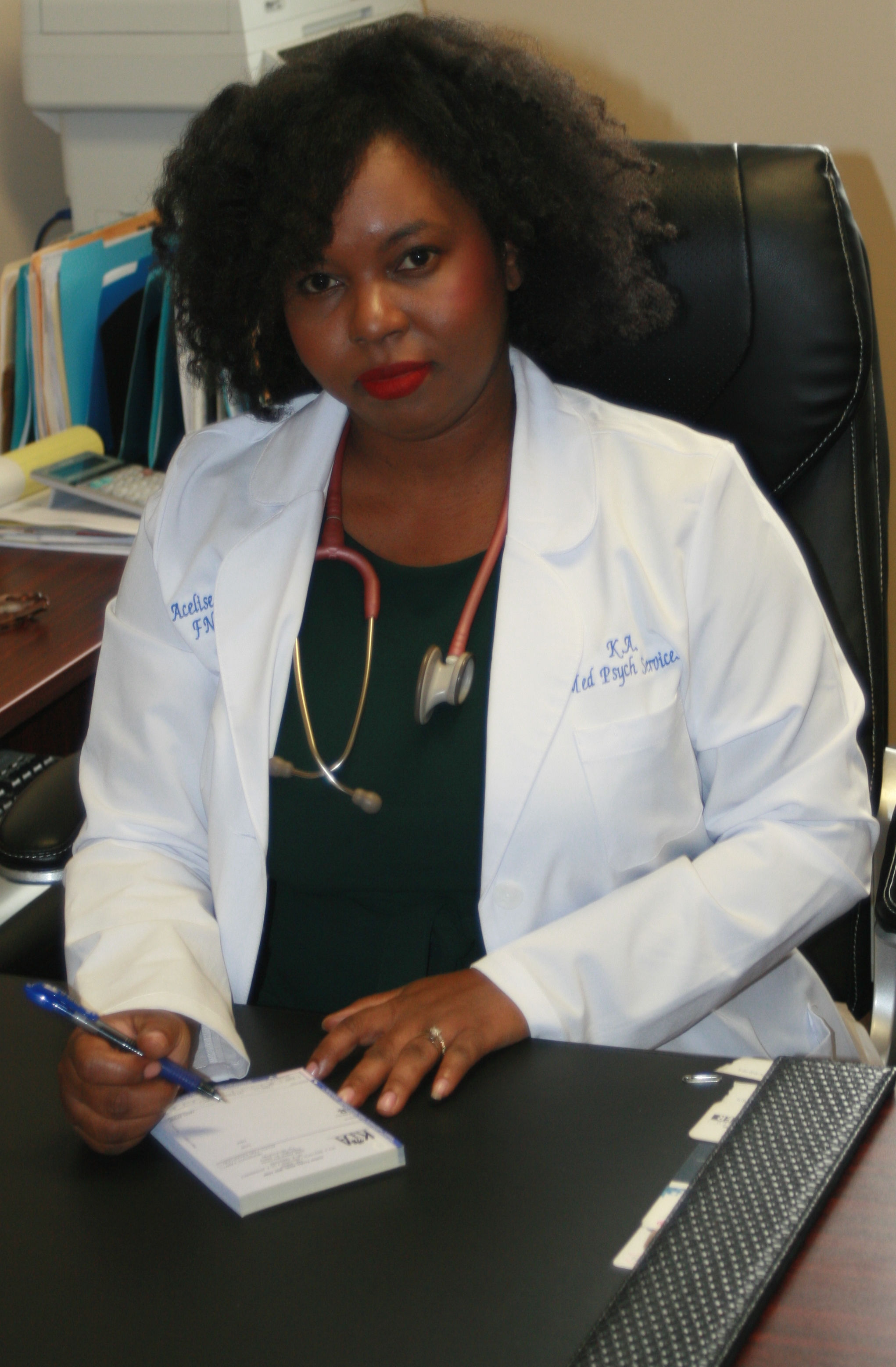 Dr. Acelise Alexis
Qualification: Nurse Practitioner
Specialization: Psychiatry, Nurse Practitioner

south university, south university

Member ID: ALE062818-180
Location: Virtual Appointments on DrsOnCalls
8988 Alexandra circle wellington FL 33414 Florida, West Palm Beach, United States, 33414
Licensed In: Florida, Florida
About Acelise Alexis
Acelise Alexis has been practicing as an Advance practice registered nurse for the past 4 years. Originally from Haiti, Acelise earned her Associate degree in nursing at Palm beach state college in 2003 in Lake Worth, her Bachelor of science in nursing with Western Governors university in 2010 in Salt Lake City, Utah, her Master's of science in Nursing as a family nurse practitioner with south university, Savannah Georgia in 2016, and her psychiatric mental health nurse practitioner Post-Master's certificate with Florida State University in 2019 in Tallahassee, Florida. Acelise has Remarkable experience in medical, psychiatric mental health and obstetric gynecology. She has profound knowledge in managing patients with psychiatric/mental disorders.
Acelise has been working in the field of nursing for the past 17 years. From 2003-2016, she has worked in multiple hospital settings throughout Florida, Georgia and New York where she provided compassionate nursing care to psychiatric and medical patients. She worked at OBGYN Specialists of the Palm Beaches in 2017 by Assisting women and adolescents to understand the different marvels that occur inside the female human body during their life span, including, but not limited to, menstrual periods, fertility, conception, pregnancy, and menopause. She Assessed diagnosed and treat female reproductive disorders, infectious diseases including many sexually transmitted diseases. She Educated patients on practices that promote wellness and health and instructed on measures to detect any abnormality or aberration in the female body such as conducting breast self-examination.
She worked at Jerome Golden Center for behavioral health 2017-2018 where Managed patients with psychiatric disorders, including but not limited major depressive disorders, schizophrenia, schizoaffective disorders, bipolar and related disorders, personality disorders, obsessive compulsive disorders, ADHD, Anxiety disorders and insomnia, alcohol and drug use disorders. Acelise has massive knowledge in the administration of psychotropic medications, nursing principles and clinical therapeutic models, In-depth knowledge about clinical psychology and counseling. 2019-2020, Acelise has been working at multiple treatment centers where she is currently managing patients with co-occurring disorders by providing primary care services, psychiatric and substance abuse services. Acelise started with Remedy therapy in February 2020.
Acelise understands the importance of working with people struggling from mental illness as well as working with their families. Acelise understands the ignominy involved with psychiatric disorders and the disease of addiction and the strength it takes to ask for help. As a psychiatric nurse practitioner, family nurse practitioner, she utilizes an eclectic approach focused on meeting each individual's needs. She understands the importance of compassion but also recognizes firm precincts when working with people suffering from drug use disorders. Acelise has learned not only from working in the field of medical, mental and substance abuse disorder, but from her own life experiences, which has led to a passion for helping others. Acelise resides in Wellington, Florida with her husband Jean Jude Alexis and her 2 children Kayla and Aiden Alexis.
Specialization

Psychiatry, Nurse Practitioner

Languages Spoken

English.

Experience