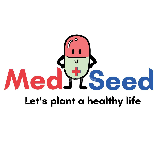 MediSeed
Specialization: General Physician
Member ID: MED012722-291
Location: Virtual Appointments on DrsOnCalls
242-A, shop. No 2, Pocket-E, GTB enclave
Address: 242-A, shop. No 2, Pocket-E, GTB enclave Delhi, India
About
MediSeed Healthcare LLP is a healthcare company dedicated to providing high-quality medical products and services to improve the health and wellbeing of individuals and communities. Our company was founded with a mission to provide innovative and affordable healthcare solutions to people of all ages and backgrounds.
As a healthcare company, we understand the importance of ensuring that our products and services are safe and effective. That's why we work with leading healthcare professionals and experts to develop products that meet the highest standards of quality and safety. Our products are designed to address the unique needs and challenges of different healthcare settings and patient populations.
At MediSeed Healthcare LLP, we offer a wide range of products and services, including medical devices, pharmaceuticals, and diagnostic tests. We also provide healthcare consulting services to help healthcare providers optimize their operations and improve patient outcomes. Our team of experts includes professionals from diverse backgrounds, including medicine, engineering, and business, who are all committed to delivering the best possible results for our clients and patients.
In addition to our focus on quality and innovation, we are also committed to social responsibility and sustainability. We strive to make a positive impact on the communities we serve by supporting healthcare initiatives and promoting healthy lifestyles. We also work to minimize our environmental impact by adopting sustainable practices in our operations.
Overall, MediSeed Healthcare LLP is a healthcare company that is driven by a passion for improving the health and wellbeing of people around the world. We are committed to providing innovative and affordable healthcare solutions that make a real difference in the lives of patients and their families.